Children's Educational Theatre provides an intensive, enriching theater experience for children of all ages, experiences and backgrounds in the Mid-Valley area. Although CET operates throughout the year, the primary emphasis is on the five-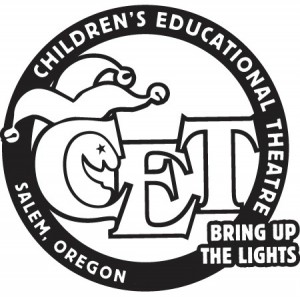 week summer program. Here, students from grades 3 through 12 experience all aspects of the performing and technical arts.
Students involved in CET will have the exciting opportunity to participate in a variety of classes that include acting, music, dance, technical theatre, stage combat, improvisation and more. Students enrolled in our performance program will be cast in one of our productions (yes, everyone gets a role!). Students enrolled in our technical arts will be working behind the scenes to make the productions happen; this includes working on lighting, stage management, prop making and more. Students are also featured in our Fine Arts Night Showcase on the final night. CET's success is based on everyone's commitment to the program; mandatory attendance for the full five weeks is required which runs June through July.
CET History                    CET Staff                    CET Board