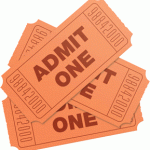 Tickets for our 2017 productions as well as Fine Arts Night go on sale beginning the third week of CET!
Admission is charged for all productions at South Salem High School. Tickets are available at the door the evening of each production or you may purchase them in advance on days when CET is in session at the Building Supervision table at the Howard Street entry in the mornings between 8:30-9 a.m. or in front of the Rose Auditorium in the afternoons between 12-12:30 p.m. beginning the third week of CET.
Group passes are available and admit up to four people to all productions at South Salem High School:
The group pass does not include admission to Fine Arts Night. Tickets to Fine Arts Night may be purchased starting the third week of CET. All current CET students, whether they are performing the evening of Fine Arts Night or not, will be admitted for free when wearing their CET t-shirt.
*Please note, admission to our Park Play is free with paid admission to the Art Fair. Admission to the Level 7 Show at its off site location(s) is free. Admission to the Traveling Show is free at all three locations. Admission to shows at Salem Public Library Loucks Auditorium are free, but seating is on a first-come first-serve basis and you must pick up a ticket at the library front desk the same day as the production you're planning to attend. The library opens at 10 a.m.