Huge Shout Out To Our ASL Interpreters!
We have been so lucky this season to have the enthusiastic support of Pamela and Edwin Cancel, ASL interpreters who were present for many of our performances this year. They are truly a dynamic duo, and we are so grateful to have had them join us!
Parent Survey
Please take a few minutes to fill out our parent survey online. It will be available through Sunday, July 27th. Your feedback is incredibly helpful to our staff and board as we prepare for next season!
Our Mime Troupe Will Perform At Northern Lights Theatre Pub Saturday Morning!
Join our Children's Educational Theatre Mime Troupe at Northern LIghts Theatre Pub at 11AM on Saturday morning for the season's final performance. It is part of the Double Play Saturday… for $11, you will get to see the Mime Troupe, eat a pizza lunch and watch Rio 2!
Our Fine Arts Night Concludes the Summer Season Each Year!
This the final evening for Children's Educational Theatre — the evening includes a fun, relaxing silent auction and performances showcasing all of the CET students.
Fine Arts Night will be on Saturday, July 26th at the Elsinore Theatre in downtown Salem.
6:30PM Doors Open & Silent Auction Begins
7:30PM Performance Begins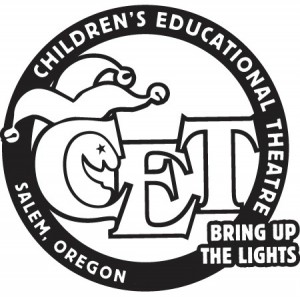 There will be a no-host bar the evening of the event and complimentary coffee/juice and dessert will be served during intermission. Individual tickets are available for $10 each or we have a $35 pass for a family of four. Tickets and passes can be purchased at the door on Saturday night or at our ticket table in front of the Rose Auditorium on CET weekdays from 8:30-9:00AM or 12:00-12:30PM or by contacting Jodi in the office at cetsalem@gmail.com.
CET students will be performing and do not need a ticket. They are expected to arrive at the Elsinore by no later than 7:00PM on Saturday evening. Please be sure they've eaten a healthy dinner beforehand. We expect the evening to wrap up around 10:00PM and students are required to follow the check-out process at the end of the night. Thank you for lending us your talented, charismatic, enthusiastic kids these past several weeks!